Hi everyone.
If you missed last monthís article, lets introduce ourselves. We are the Belper Town Safer Neighbourhood Team, PC Barry Bacon and PCSO Steve Slater.
We work with the local community to address local issues within the Belper Town area. We develop local contacts to resolve local issues which matter to you.
We have recently been acting upon a number of problems in the Whitemoor area, involving nuisance and rowdy behaviour from a number of youths in the area. Police action has resulted in an increase in patrols in the area, as well as a number of arrests and warnings issued to named individuals. Others are currently being investigated. If anyone knows of anyone responsible for any nuisance behaviour in the Whitemoor area, or has any general concerns about Anti Social Behaviour please don't hesitate to call Graham Jarrett, Anti Social Behaviour Coordinator on 01773 571789 or email: graham.jarrett.3892@derbyshire.pnn.police.uk - your call can be anonymous if you wish it to be.
We continue to appeal for interest from the community in relation to the Derbyshire Police Speedwatch Campaign. The aim of this is to discourage dangerous driving with the help and assistance of voluntary members of your community. Members of the public will not be able to stop drivers, but those who are caught and identified, will be sent warnings by the police. Officers would accompany volunteers whilst out and about in identified areas. If anyone is interested in participating in this scheme, please contact us on 0345 123 3333 and we will continue to develop the scheme in the Belper Town area.
Some final news... The Derbyshire Police non-emergency number has changed! Itís now 0345 123 3333, which replaces the old 0845 number. The 0845 number will still be available to use for around 2 years but is being phased out. The change has come about after recommendations from Ofcom (Office of Communications)†to cut confusion over call costs. This now means the 0345 number is charged the same as a call to any other standard 01 or 02 number and can be included as part of call packages.
Barry and Steve - Belper Safer Neighbourhood Team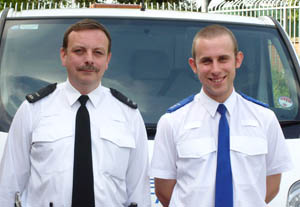 (L to R) - PC Barry Bacon and PCSO Steven Slater